From the Biography page of Jay Maisel… After studying painting and graphic design at Cooper Union and Yale, Jay Maisel began his career in photography in 1954. While his portfolio includes the likes of Marilyn Monroe and Miles Davis, he is perhaps best known for capturing the light, color, and gesture found in every day life.
I grabbed a quote from Jay today because many times I talk with photographers who are not making the images they would like. I feel part of the reason is they don't have their camera in their hand making images. They are not studying light. They are not studying shadows. They are, however, afraid to make mistakes. And that is the biggest mistake. That is where learning comes from. Jay is a big proponent of having a camera in your hand and trying many different things. Oh! And getting off your butt and out shooting!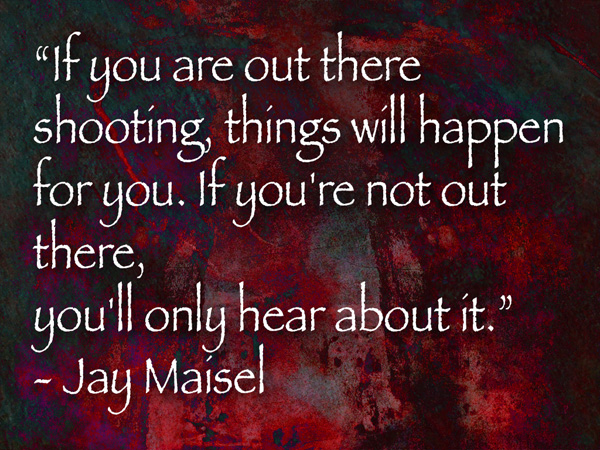 "If you are out there shooting things will happen for you. If you're not out there, you'll only hear about it." Jay Maisel
Making excellent images is a skill. Skills take practice. If you keep looking, firing frames, studying, learning AND have your camera with you will recognize more often the gifts that are in front of us in the name of a beautiful photograph.
Since becoming a Lumix Luminary I've had a camera with me almost constantly (working on getting the almost adjective out of there) and I'm finding I see more opportunities for making interesting images because I'm training my brain to always look. It's become easy to have a camera with me all the time because the micro 4/3rds mirrorless cameras are so lite but the files are so robust. I often left my DSLR camera and lenses behind because of the weight and PIA factor. Now my entire everyday kit has more range and weighs less than a DSLR body equipped with a single zoom lens.
I salute technology and the freedom it is giving me to become a better photographer.
Yours in Creative Photography,       Bob
Here a link to some more Jay Maisel quotes written by Derrick Story… You'll see such things as "On preparing for a shoot… "Try to go out empty and let your images fill you up." "When finding the right angle for a shot… "Move your ass."" Check it out.